This post will guide you to get to Amantani island from Puno times, schedules and options.
Amantani island from Puno all different transportations
There are 2 kinds of services to go to Amantani, one is the local boat and the other one is the tourist service. Both depart from Puno at 8:30 approximately. The other way to go From Amantani island is by the route.
local boats to Amantani
Local boats to Amantani leave from the harbor at 8:30 in the morning there is no more schedule, only once a day; these boats are not much safer, the tourist used to complain about the time that takes to get to the island, the reason because why these take more time to arrive to Amantani is because the purpose for this boat ticket to Amantani is transport suppliers to the island but there is a Capitan that acts as a guide even if he doesn't have any kind of formation in tourism.
Tourist boat ticket to Amantani
The travel agencies offer tours to go to the islands of Titicaca lake, with or without accommodation, if you booked the tour without accommodation you must book your accommodation in Amantani on your own, the circuit of this tour is as follow:
First day: Puno – Uros (visit for about 1 hour) – Amantani
Second day: Amatani – Taquile – Puno
For this tour, the travel agencies normally include the pick up of passengers from the hotel or bus station, or b&b.
How much cost the boat ticket to Amantani island?
The local boat ticket to Amantani costs about 50 PEN each, plus entrance fees (about 10PEN for each place).
With us, a boat ticket to Amantani cost 22USD (special price only if you booked Inca Lodge) per person including a professional bilingual guide, entrance fees, and pick up from the hotel or bus station or b&b if your accommodation is outside the downtown, we can agree on a meeting point to start the tour.
How do I pay boat ticket to Amantani?
We accept PayPal payments if you want to book us you can send us the PayPal payment to sales@highlandadventure.net leave us in the description the date of travel, number of participants, and pick-up place in Puno (if you don't know it yet, just let us know when you will have it). If you have any questions you can contact us using the contact form on our website.
From Puno to Amantani island by route
If you are not able to go from Puno to Amantani island by boat, you could try going to Amantani island by route, we advise you only if you speak Spanish because all of this is done using local transports.
First, you have to go to the Capachica peninsula Colectivo stop there are minivans leaving in the very early morning and once they have enough passengers to cover their costs, they depart normally every hour; from Puno to Capachica peninsula is about 1 hour and a half you must expect that they will be stopping along the way to collect more people, this bus goes full.
Second, you need to walk for about 10 minutes to Chifron known as "playa Chifron", there is a harbor to buy a local boat ticket to Amantani , and there are colectivo boats from 6:00 in the morning. Takes between 45 minutes to 1 hour to arrive at Amantani island, this boat will take you to "Pueblo harbor" if you book Inca Lodge – Occosuyo from "pueblo harbor" you can walk for about 45 minutes or agreed on a price with the Capitan of the local boat to arrive to Ocosuyo harbor (from there 10 minutes).
Amantani island homestay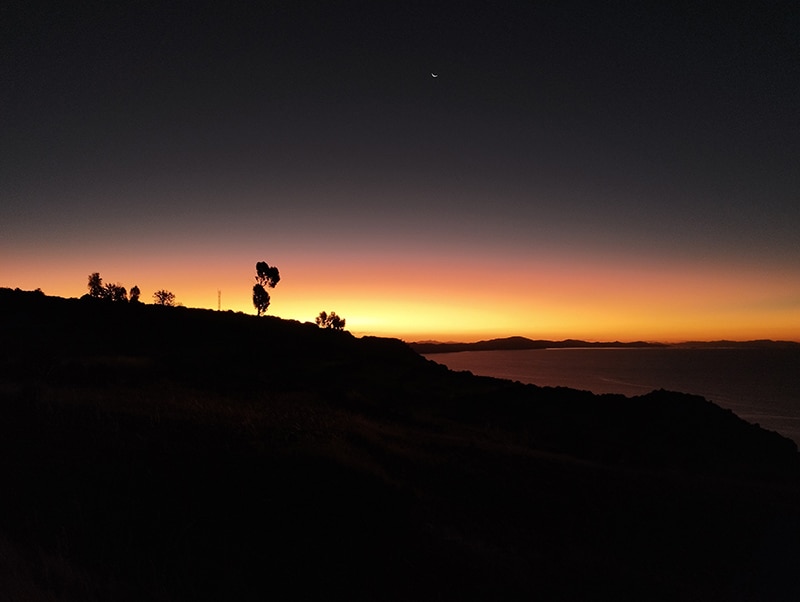 To stay one night on Amantani island is such a good experience when you book a tour with accommodation included you must pride in order to arrive at a good house because there are still houses on the island that received tourists which not good conditions, this repartition is randomly done with the guide and the authorities because they have rotation system and its not possible to know in advance the house where you will stay. If you want to ensure you will stay in very good accommodation you must book your accommodation using booking.com for example, so you book only the boat ticket to Amantani island, a professional guide on board the boat, and entrance fees.
The boats don't arrive at the same harbor every day because of the mandatory system on the island (there are over 10 harbors), so if we are not arriving at the closes harbor of the accommodation you book you might walk longer or need to pay extra so the boat drops you off at the nearest port.
If you are looking for luxury accommodation we also provide this service very comfortable and unique experience in Titicaca lake, contact us for more detail and to check availability, this kind of service is provided as a private service, all-inclusive concept, starting/ending from Puno city or the airport.
Amantani Map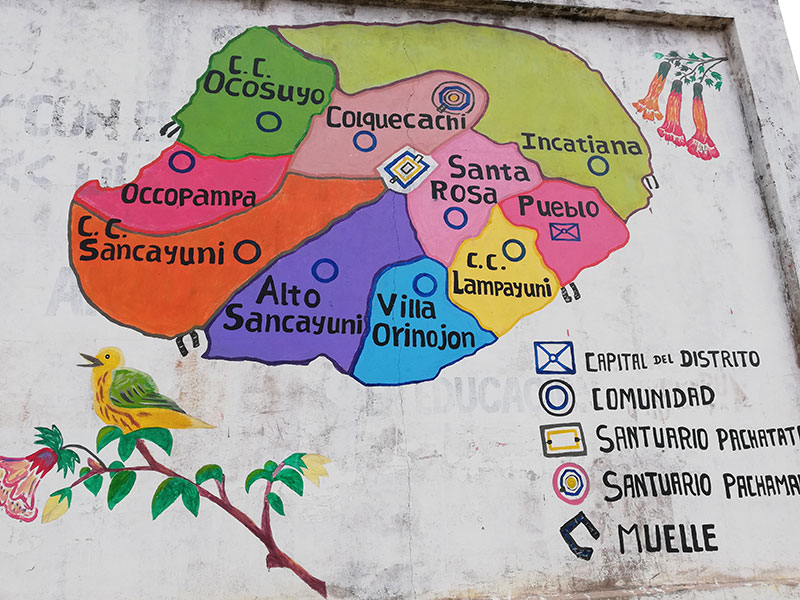 Taquile island tour from Amantani
if you want to visit the famous Taquile island, the boat ticket to Amantani is included on the second day of the visit to Taquile, we depart from the harbor at about 7:30 is not a fixed time always depending on the weather conditions, you must coordinate with the guide to know the exact time to depart. Getting to Taquile island takes approximately one hour. This is a guided visit the guide will take you to all places and will explain all the incredible traditions and history of this beautiful island; the departing time is by midday so you will arrive in Puno by 15:00. At your arrival you can continue to Bolivia but only in a local minivan.
Get back to Puno from Amantani
If you go on with a tourist boat ticket to Amantani, these tickets include the visit to Taquile on the second day, however, if you took the local transport you can go to the "pueblo harbor" and take the Colectivo boat to Chiffon (Capachica peninsula, there are boats from 5:00 in the morning until about 14:00) and then continue by route to Puno or Juliaca, take about 1 hour by local boat plus 1 hour and a half by local minivan.
If you are not getting back to Puno and you want to go to the airport, from Chifron you can go to Juliaca instead of Puno takes about 1 hour, at your arrival at the minivan stop you can take a taxi to the airport, however, this is not advisable if you don't have experience traveling with local transport in Peru, because the taxi drivers aren't safe always.
How to get to Amantani island from the airport
if you want to come to Amantani directly from the airport you could take a taxi to the Capachica minivan stop (Capachica is a peninsula from where you can buy the local boat ticket to Amantani) takes about 1 hour and a half, except that the bus will stop several times to pick up more passengers along the route. The bus will stop at Capachica village, to Chifron you can go walking (15 minutes far) or take a "moto taxi" (three wheel motorbikes known in other countries as tuc tuc ) there are boats until 16:00 (one hour to Amantani).
This is a long way with stops and you must be used to traveling in local transport in Peru and speak Spanish at least basic because no one along this route will speak English not even basic expressions.
What to do on Amantani island
The island is beautiful what we suggest is to visit the pre-Inca temples known as Pachatata and Pachamama those temples are located on the top of the island (over 4 thousand meters above the sea level) and offer a very good view of a big part of the Titicaca lake and depending on the weather the snow cap mountain of Bolivia. On the top of the island is cold when the sun is gone, so we advise you to take your warm clothing even gloves, a hat to cover your ears, scarf.
If you are not feeling good you can just enjoy the beautiful view and feel the magic energy of the sacred lake of the Incas.
More Titicaca tours