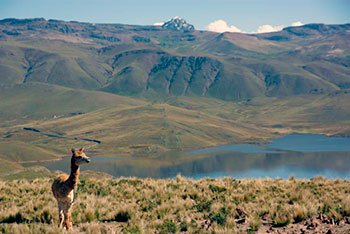 Colca canyon tour from Puno cross the highland flatlands along the length of the way you we'll stop to see vicuñas and flamingos, Colca canyon is on the list of deepest canyons on earth, and we will observe how unexpected and breathtaking may be the Andean landscape, there have the chance to see the spectacular flight of the Andean condor. Colca Valley is really a natural wonder deserved to be seen, across the valley we will observe traditional communities amongst remarkable Incan terracing technique. After Colca canyon tour ongoing to Arequipa.
Colca canyon tour from Puno details
| | |
| --- | --- |
| DEPARTURE |  At your elected hotel in Puno. |
| PICK UP TIME | At 6:00. |
What is included?
Pick up at your elected hotel in Puno.
Sightseeing bus from Puno to Chivay.
Entrance fee to the Colca canyon around $25.
One night hotel, double room (three stars hotel: Eco inn, Colca inn, Colca Llaqta, Poso del cielo). if you want to upgrade the hotel to Colca Lodge or similar just send us a email to check the availability.
One day tour visiting the Colca canyon,  english  speaking guide.
Bus ride to Arequipa.
Colca canyon tour from Puno Itinerary
Day 1: Bus from Puno to Chivay
At 06:15 we transfer you to the bus terminal to aboard the Bus to Chivay and travel by the endless highland plains covered by "Ichu" a type of straw adapted to high altitudes. Gradually we go up and cross the occidental Andes, stop by a high lookout place that will aloow us to see "Lagunillas Lagoon" and observe some rare Andes birds which includes "Ajoya" the giant Andean coot and also the Andean goose. At "Pampa Cañahuas" we observe Vicuñas a kind of Andean camelid. In route we get to another high pass (4,950 m) known as the Volcanoes lookout. Before descend to Colca Valley. At 12:00h. Arrival to Chivay city. Transfer towards your elected hotel. You could have lunch in the hotel or at some of the restaurants in the main square. By 16:00 our guide will pick you up to have a deserved relaxation in the thermal waters called as Calera, recommended bringing swimming suit, but could be rented at la hotsprings as well. By evening dinner accompanied with a folkloric show.
If you have elected the exclusive Colca Lodge Hotel located near Yanque Village, then you just remain at The hotel because it has private thermal waters and excelent facilities like SPA, warm pool, and others
Includes:
Transport from Puno to Chivay, entrance fee to the Colca canyon, professional bilingual guide on board, trasfer to your hotel at upon your arrival, double room at budget three stars hotel.
Not included:
Lunch, dinner, entrance fee to the hotspring.
Day 2: Cruz Del Condor & Arequipa
Early after Breakfast our guide will take you to "Mirador Cruz del Condor", one of the best view points to see the impressive depth of canyon stretching nearly 4,000 ft bellow, and the spectacular flight of the condor, in days with the ideal thermal air currents can be seeing many of them mastering the deep canyon. On the route back we will stop at Maca and Yanque communities to see its charming colonial churches with a few snow peak glaciers behind over the distance. In the lookouts of Choquetico and Antahuille you will see impressive Incan and pre – Incan terracing system covering section of the valley. Also your guide will show you lytic models that display the advanced hydraulic planning of the ancient technicians. Back at Chivay main square we enjoy of lunch time before go to Arequipa. The shuttle take us again scenic landscaping, arrival at Arequipa by 17:15 . You will find a lots of accommodations at close by the main square. In the evening you could explore this gorgeous city by your own and enjoy the local cuisine in one of the recommended Arequipa Restaurants.
Included:
Guided visit to the Colca canyon, Transport until Arequipa.
Not included:
Lunch, water, snacks, extra expenses.
Bookings Colca canyon tour from Puno 
Book Colca canyon tour from Puno is very easy, just fill the form beside and then Pay through the security and guarantee of PayPal system , any doubt please check FAQs or Contact us.
 have a look this links: Video, Colca canyon tours, Colca canyon trek