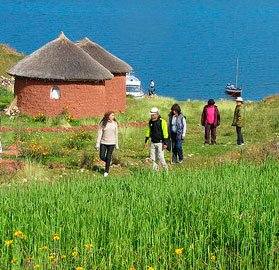 Ticonata homestay tour is really a small island on the northwest sector of Lake Titicaca, a location filled with authentic culture, recent pre-Incan archaeological findings and spectacular landscapes. A wonderfull option in Lake Titicaca from the beaten track journeys.
Ticonata homestay itinerary
Day 1 – Uros, Llachon and overnight
Depart at 7:45 am to visit Uros floating islands, we will step on two of the 60 hand made islands, discovering the fascinating history of this ancient culture, then continue navigating to Llachon, arriving about 11 am. We do a gentle walk on a pre-Inca path way and enjoy lunch at a local restaurant. Depart from Llachon to Ticonata island homestay, after one hour boat ride we arrive to Ticonata homestay, where we will be welcomed by the community and accommodated in their local houses , with conical houses and thatched roofs made as a remembrance of the pre Incan houses, in the region the conical shape and the thatched roofs gives to the island a unique character, later afternoon we will visit the local museum to see the mummies, and take a short hike to the ancient ritual place (at the top of the hill where we will se the amazing lake Titicaca), even today it is still used by the locals in authentic ancestral ceremonies and the sunsets from up there are simply spectacular. We will get back to the houses to enjoy a typical dinner, and then sit around the bonfire. This is based in genuine sustainable project that it involves people from the community and they all share the work and the benefits equally.
There are few places where you can breathe the essence of a culture, nevertheless Ticonata is one of these.
Overnight at the Ticonata Eco Lodge. Note: Basic facilities, outhouse toilets.
Day 2 – From Ticonata to Amantani 
After an early breakfast of regional cereals,we set sail for Amantani island with experienced fisherman at the helm,  the west winds behind us. We will arrive at our destination after 2 or 3 hours later depending on the season. You may need to paddle the last bit if it necessary, but at any rate our private escort motorboat is ready to assist us if need be. On Amantani Island visit the main village and take a pleasant gentle walk to observe the locals farming and herding. We will have lunch in a local house (this lunch is not included) and some time to learn about the culture and people of Amantani. Later we will return to return to Puno city by motorboat arriving approximately 4.30pm.
GROUP TOUR: We don't have daily departure for Ticonata homestay but we can confirm in waiting list at the meaning of time send us a e-mail to ask about the availability.

Ticinata homestay tour details
DEPARTURE/RETURN LOCATION
 At your elected hotel.
PICK UP TIME
At 9:00.
RETURN TIME
By 12:00
INCLUDED
Entrance fee.
Motor boat.
Professional English speaking guide.
2 meals the first day, 1 meal the second day.
Accommodation at Ticonata (home-stay)
NOT INCLUDED
Optional reed boat in Uros.
Tips, water, snacks, extra expenses.