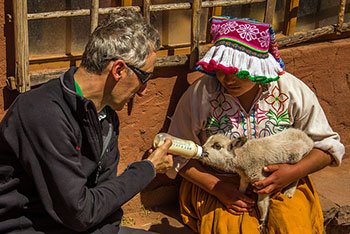 This Llachon homestay tour allows you to visit Taquile island and sleep in one of the local houses at the peninsula of Capachica(Llachon),  conditioned to receive tourists, will be attended by local people and in the afternoon we will be able to observe birds and the beautiful landscape of Lake Titicaca.
Day 1 – Uros – Llachon
It begins at 6:45 in the morning, first stop in famous floating islands, an group of more than 70 handmade floating islands inhabited by the Uros, an ethnic group of fishermen, part of an ancestral group, then we depart towards Llachon, after lunch here in Llachon we can hike to the top of the mountain  to see Titicaca shores and wait the sunset, after dinner we go bed.
Day 2 – Taquile
At 8:00 breakfast, then we go to the harbor to take the boat towards Taquile, here we get the chance to enjoy the spectacular views of Lake Titicaca. A long path gradually ascending will take us to the village, the views are unique and worth's. 30 minutes hike to reach the communal cooperative where you will find handy craft textiles of high quality, the guide will explain all about the unique Taquile's textile. Then we will have lunch at the local restaurant, After lunch descend towards the harbor to return to Puno.
Llachon homestay tour itinerary
DEPARTURE/RETURN LOCATION
 At your elected hotel.
PICK UP TIME
At 7:15
RETURN TIME 2nd DAY
By 16:00
INCLUDED
Entrance fee.
Motor boat.
Professional English speaking guide.
Homestay and 2 meals
NOT INCLUDED
Optional reed boat in Uros floating island.
Lunch on Taquile.
Tips, water, snacks, extra expenses.