Upon request
Availability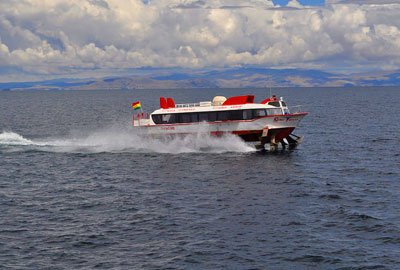 Sun and Moon islands tour from Puno (Peru) overland to Copacabana (Bolivia), located at the shores of Lake Titicaca. Once in Copacabana, visit the shrine and the Dark Indian Virgin. Hydrofoil cruise to Moon Island, visit the Sun Virgins Temple "Iñak Uyu". Continue to Sun Island. Visit the Inca "Grand Stairs" and the Sacred Fountain; taste the water believed to give eternal youth and happiness. Lunch will be served at the Uma Kollu archaeological Restaurant, next to the small handicraft market. After Lunch on Sun Island, we return to Copacabana by Hydrofoil, and then by bus to the boarder and to Puno arrival in the afternoon, transfer to your Hotel

DEPARTURE
 At your elected hotel.
PICK UP TIME
At 6:30.
ARRIVAL IN LA PAZ
By 18:30 (Bolivian Time)
INCLUDED
Overland Transport with guide & visits on the way
Hydrofoil Cruise to Sun & Moon islands.
Entrance fee.
Lunch.
Professional English speaking guide.
NOT INCLUDED
Visa fees, tips, extra expenses.
* Is possible going back to Puno too, after Lunch on Sun Island, we return to Copacabana by Hydrofoil, and then by bus to the boarder and to Puno arrival in the afternoon, please send us a e-mail.
What is included for Sun and Moon islands tour?
For Sun and Moon islands tour you need very little, but the following, but the following items are advisable to carry in a day pack and /or wearing them on.
T-shirt, optionally long sleeved shirt.
Long trousers, optionally shorts (extra).
Warm clothing and a jacket or a fleece (if it is cloudy is going to be cold).
Rain coat or a poncho (only in the rainy season, Dec – March).
Hat and sun glasses.
Sun screen (sun block) very important.
Walking shoes or boots.
Camera and film.
Money in Bolivian currency.
Water 1 liter (more to buy at the Island).
Book Sun and Moon islands tour
Book Sun and Moon islands tour is very easy, just fill the form beside and then Pay through the security and guarantee of PayPal system , any doubt please check FAQs or Contact us.
have a look this links: Sun island full day tour