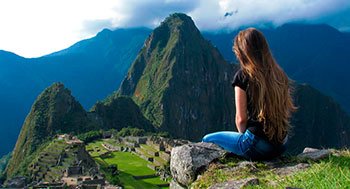 In this Machu Picchu tour 2 day tour you will get two must-sees of the region Cusco: the Sacred Valley of the Incas and one of the 7 New Wonders of the World, Machu Picchu! First you will get to experience the Sacred Valley, a former very important habitat for the Incas. It's a cradle of culture, history and agricultural richness and a perfect place to learn about the inhabitants of the ancient Inca Empire. The journey finally leads us to Machu Picchu tour, probably the most important sight in Peru in the heart of the mountains. There you are going towalk-through narrow paths and between impressive stone wallsas well as your know about the Incas will obtain even more expanded within a guided tour.
The trips and excursions to the different destinations of this tour are managed with a guide and a small travel group with like minded people you can share your experiences with.
Machu Picchu 2 day tour details
| | |
| --- | --- |
| DEPARTURE/RETURN LOCATION | At your elected hotel. |
| PICK UP TIME | By 8:00. |
Machu Picchu 2 day tour  Itinerary
Day 1 From Cusco to Sacred Valley and Aguas Calientes
We start Machu Picchu 2 day tour  in the morning at 8.00 we pick you up and take our bus towards the Sacred Valley where the Incas once built important cities like Pisac and Ollantaytambo. These spectacular towns are built in harmony with the nature and always surrounded by an incredible landscape. We will visit the archaeological complex of Pisac and enjoy a nice buffet lunch in Urubamba. After lunch we will continue to Ollantaytambo where we explore its Inka ruins. For those visits we will use the partial tourist ticket. After visiting the Inca ruins you take the train to Aguas Calientes, the town near Machu Picchu where you'll spend the night.
Not included:
Lunch, Dinner.

Day 2 – Machu Picchu and get back to Cusco
Morning begins very early, around 4 am, with breakfast at 4:30. The plan is to experience a beautiful sunrise at the sanctuary of Machu Picchu. To get there you can either walk for about 1.5 hours or take the bus that leaves at 5:30 and takes about 25 minutes. Arriving we will see the magnificent citadel of Machu Picchu quietly being filled with the light of the day. After a short rest a walking tour is given by your guide (approx. 2 hours) and after you can explore the mysterious city by yourselves, capture these unforgettable moments on your camera and enjoy the unique atmosphere of this sacred place. In case you have some energy left you may also ascend Huayna Picchu mountain (2720m/8890ft). It takes about 45 minutes to reach the top (prior booking is necessary). Later the train, departing from Aguas Calientes, will take us back to Ollantaytambo from where we return to Cusco by bus.
Not included:
Lunch, dinner.
What is included?
Guided tour to visit the sacred valley (Pisac and Ollantaytambo)
Train ticket from Ollantaytambo to Machu Picchu town.
One night hotel room 3*** (double or single room).
Round trip ticket to Machupicchu.
Guided Machu Picchu tour.
Train ticket from Machupicchu town to Ollantaytambo.
Transport from Ollantaytambo to your elected hotel in Cusco.
What is not included:
Meals.
Bus from Aguas Calientes to Machu Picchu.
Tips or extra expenses.