Daily departures
Availability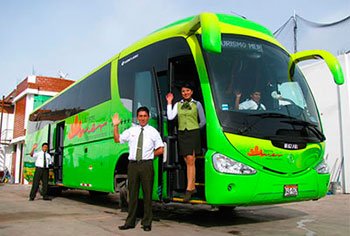 Cusco Puno bus service is provided with equipped purely for a touristic trip, looking for the best way to travel by bus from Cusco to Puno or viceversa, so our client can enjoy different locations that hold magical charm and an ancestral history, such as: The Sistine Chapel of the Americas or the Andahuaylillas church, the mighty Temple of Wiracocha, the regal La Raya pass (road limit between Cusco and Puno, having a beautiful look at the Chimboya Glacier, and also the fascinating Lithic Museum from the Pukará culture.
Cusco to Puno tour bus details
DEPARTURE
 At your elected hotel.
PICK UP TIME
At 6:30
ARRIVAL IN CUSCO
By 17:00
INCLUDED
Entrance fees.
Buffet lunch.
Professional English speaking guide on board.
NOT INCLUDED
Tips, extra expenses.
Bus itinerary 
Cusco to Puno bus starts at 6:30 with the pick up from your elected hotel.
At 8:00 we stop in Andahuaylillas, this church was built during the 17th century and it is also known as "The Sistine Chapel of America", it's because of the beauty and profusion of their murals, the ornaments in gold leaf and works of art.
At 10:10 we arrive to Raqchi temple, also known as the Temple of Wiracocha, named after Wiracocha, a supreme deity in the Inca civilization.
Within this location we'll discover the greatest quantity of barns (Colcas) and we'll see magnificent constructions in stone and sun-dried bricks.
At 11:40 we stop for lunch, and in this case is a buffet kind of lunch in a touristic restaurant which is very renowned and known for the great ability of its chefs, it's strategically found in the borders of Sicuani.
The buffet features a variety of national and regional food by means of appetizers, vegetables, garnishes and also the best desserts and hot beverages, like tea and coffee.
At 13:10 go to the border involving the departments of Cusco and Puno, inside a height more than 4.335 meters within the sea level. From that place you'll be able to determine the famous Chimboya Glacier in which the Amazon . com River comes into the world. There, the passengers can take images of the landscape.
At 14:30 visit the Pukará museum, Pukara culture was created between your years 1600 B.C. and 400 A.D., on the high plateau located 106 kilometers north-east from the town of Puno. Within this museum we are able to find pottery and sculptures representing zoomorphic figures, among which we are able to begin to see the famous sculpture from the Hatunñaqac, meaning within our language "The Supreme Executioner".
Arrival to Puno by 17:00
Puno Cusco bus itinerary
From Puno to Cusco we stop in the same places and the hours are the pretty the same, just send us a mail after the payment if the tourist bus is from Puno to Cusco.