This post will guide you through the different options to get to Taquile island from Puno.
Boats from Puno to Taquile island
To get to Taquile island from Puno there are two kinds of services, one is the local boat to Taquile island the other is the tourist boat to Taquile island that leaves at about 7:00 in the morning. If you choose the first option this boat is slow and takes about 3 hours (one way) to get to Taquile island. If you choose the second option their boats to get to Taquile island take about 1 hour and a half so you will save a lot of time.
Both options stop at Uros floating islands and in Taquile for some hours before getting back, however, the local boat to get to Taquile uses a Capitan boat as a guide even if they don't have any kind of preparation for tourism. For the second option, you will be with a professional bilingual guide on board.
The other difference is that the local boat arrives at the main harbor (Chilcano harbor) so you will climb up 500 rustic steps (very hard at over three thousand meters above sea level). However, the tourist boat to Taquile island arrives at different harbors (there are over 10 harbors on the island), normally to the south part of the island but almost never to Chilcano harbor (no climb steps).
How much does it cost to get to Taquile island?
The price with the local collective boat is about 60 soles without entrance fees, you will pay for Uros floating islands and for Taquile island about (20 soles in total).
The price for the tourist boat with us is 40USD per person including entrance fees for Uros floating islands, Taquile island, and a professional bilingual guide. This is a round-trip ticket to get back the same day, if you will stay one night or more nights on Taquile island the price is 45USD (This is a special price only if you have a reservation at "Casa de Elias").
To buy the Taquile island boat trip you could send the payment here: sales@highlandadventure.net just let us know the number of participants, date of travel, and pick-up place.
Taquile island things to do
On Taquile island, you will see beautiful handicrafts their handicrafts are recognized by Unesco as a material heritage of the work you will see young and elderly boys knitting their hats known in Peru as "chullo", here on Taquile island married men and single men wear different clothes, will be very interesting learn about their culture and traditions.
However, if you will stay one night on Taquile (Taquile island homestay) island you will have an afternoon exploring Taquile island on your own there is a sandy beach and pre-Inca ruins on the top of the island that will offer an incredible 360-degree of the immensity of the Titicaca lake if you have a change with the weather you will see the Bolivian snow cap mountains part of the Andes too.
The ruins you will find on this island as still used as amulets are an ancient vestige of pre-Inca civilization, and the locals are still offering offends with coca leaf wine and other products that are considered sacred in the Andes, if you will climb to the top you can also pray to the mountain gods know in the Andes as "Apus", you can pray for the health or good vibes, on the top you will be at four thousand meters about sea level.
Taquile island Map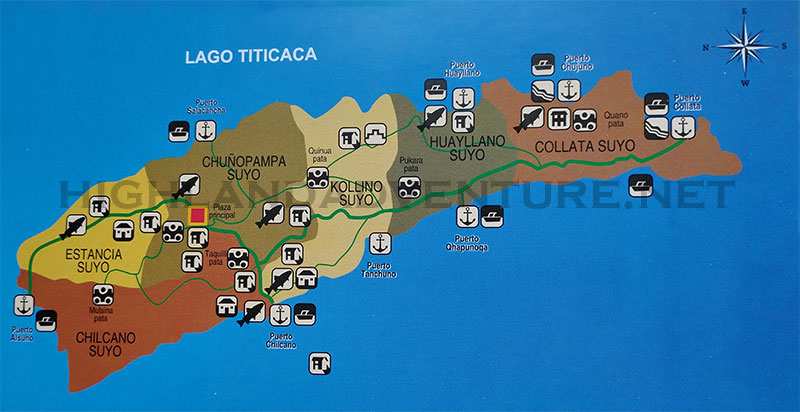 Boats from Llachon
To get to Taquile island from Llachon (peninsula) there are three options you can buy a boat ticket to Amantani island, this boat will pick you up from Llachon because it is on the way, however, this boat doesn't get back to Puno the same day, this boat stays one night on Amantani and the next day before getting back to Puno visit Taquile island (if you are planning to visit Amantani and Taquile this is the best option).
The other option to get to Taquile island from Llachon is to arrange a private small boat from Llachon to Amantani and once you will be on Taquile you can either get back to Puno or stay one more night on Taquile island if you decide to get back to Puno you can join the group do the visit and after the visit, you will get back to Puno (if you want to visit only Taquile island this is your best choice).
Boats from Luquina
To get to Taquile island from Luquina (peninsula) is easier, all the tourist boats that go to Taquile island can pick you up from Luquina harbor because is on its way. They can either pick you up in the morning before visiting Taquile means you will have a chance to visit Taquile or in the afternoon on their way back to Puno means they will take you directly to Puno. You will arrive in Puno by 15:30 in the afternoon.
More Taquile island tour