Daily departures
Availability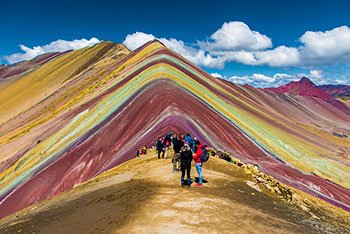 Rainbow mountain trip, are spectacular and surrounded by the gorgeous Ausangate mountain, this mountain is recognized as a holy mountain by the Peruvians and it is the deity of Cusco. Since pre-Inca occasions the mountain is really a location of worship and choices which tradition continues today.
Relating to Rainbow Mountain tour you will observe quaint villages, beautiful adobe style houses, herds of llamas and alpacas and you will have magnificent views in the Ausangate Glacier (6,385 m / 20,945 feet), the finest mountain inside the Cusco region.
With uninterrupted beauty and solitude, this can be a spectacular trip for trekkers who love a real outside adventure.
We'll collect you early out of your Cusco hotel and hang on a drive-thru the South Valley. The drive towards the trailhead at Quesiuno community (4,326 m / 14,189 foot) the ride is 3 hrs lengthy. After we achieve the Inkintuyoc bridge, we have a fueling continental breakfast. Then we begin on the hike, carrying out a lovely stream.You will be immediately amazed at literally herds of alpacas, llamas and horses. We'll have consistent views in the Ausangate Mountain. We'll hike through villages and talk to the area residents. We'll stop for supper over the Cusco Rainbow mountain.
Back round the trail, we stumbled upon a large amount of traditional facets of this trek. Including potato fields and various fauna. We have the options of seeing chinchillas and vicunas. Vicunas will be the only non-domesticated animal in the llama family in Peru. Many red hills may also be a highlight from the part of the hike.
Following a total hike of roughly 3 hrs, we finally achieve our destination, the top of Rainbow Mountain trip is (5,020 m / 16,466 foot). After you have within the shock of the beauty, you'll have time look around the area. You'll have time for you to take pictures and absorb the atmosphere. We'll spend roughly half an hour at the very top.
At this time, it's time to return lower. We hike downhill the way you came. The hike will require 3 hrs. Our private van is going to be awaiting us whenever we return.
We'll attempt the 3 hour drive from Rainbow mountain from Cusco and drop you off in the Cusco hotel. Approximate arrival time is between 17:00 to 18:00.
Rainbow mountain trip details
DEPARTURE/RETURN LOCATION
 At your elected hotel.
PICK UP TIME
By 3:45
RETURN TIME
By 17:00
WALKING TIME
3 hours going and 3 hours back aprox.
INCLUDED
Entrance fee.
Transport.
Professional English speaking guide.
Breakfast, lunch.
NOT INCLUDED
Tips, water, snacks, extra expenses.